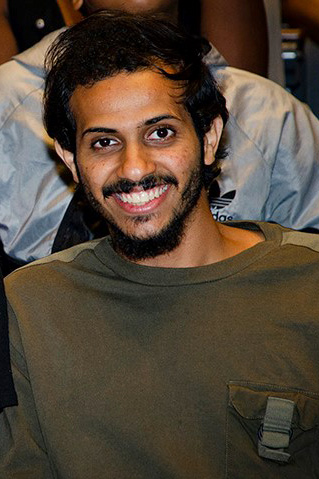 Rio Bin Muaydh
Safe Walker
Rio Bin Muayhd joined MJKO in January 2017, as a Youth Volunteer.  He was looking for new connections, a place to practice his English and of course a place to stay fit. When you meet Rio and his smile so bright, you could never imagine the journey he has taken to get here.
Mr. Bin Muayhd walked across the US – Canadian Border one cold, winter night, in hopes of a brighter future in Canada.  With only the clothes on his back, he fled the ongoing Civil War in Yemen.  At the border crossing, Rio found himself in the French speaking province of Quebec.  With the help of some fellow refugees he met at the shelter he was living, he found his way to Toronto.  He knew some English from back home and believed if he were to make it in Canada, he'd better start off in an English speaking city.
It's hard to believe that he is now working with the sole purpose of keeping our athletes safe, walking through the streets of South Parkdale.  Being the walk Rio has taken to get here, MJKO believes he is the perfect fit for this position.  No sleet, rain, snow or heat – will prevent Rio from his duties. We are beyond excited to offer this new program to the community which has seen a violent few months.
If you see Rio and our athletes out on the streets please give him a friendly wave!  Mr. Bin Muaydh is playing an important role here at MJKO as our athletes safety is our utmost concern.
About Parkdale SafeWalk
The Parkdale Safewalk program implements an after school pick up/drop off program from a child's school, to free fitness programs offered at the MJKO Champion Centre in South Parkdale. The Parkdale Safewalk program will allow for up to two pickups and drop offs per day, allowing for a minimum of 100 young people to benefit from this new service. MJKO expects that this program will go beyond the basic transportation of students to building mutually rewarding relationships with our youth. These walks can act as a way to build community, cool down after a nice workout, and build lasting mentorship relationships.