Mentoring Juniors Kids Organization (MJKO) is a charitable organization that promotes positive and healthy lifestyle choices through mentoring and leadership training. Our dream at MJKO is to create Community Champions by using the sport of non-contact boxing to get kids moving, thinking about healthy food choices, believing in impossible dreams and understanding the importance of volunteerism.
Core Values
1. All things are possible with training, preparation and belief (confidence).
2. We all have a duty to give back to the community.
3. All children and youth should have access to high quality fitness based programming.
4. Physical fitness is a cornerstone for a healthy, happy and balanced life.
5. Positive relationships among people are the foundation of life.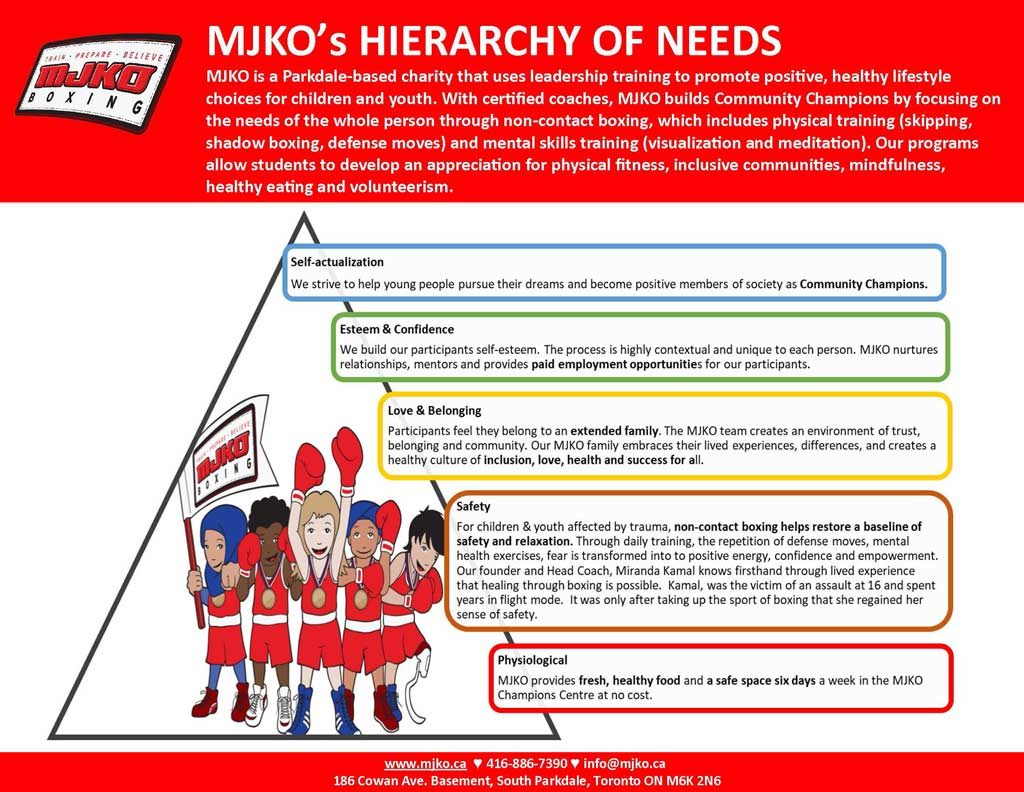 Mentoring Juniors Kids Organization (MJKO) was co-founded by Ibrahim and Miranda Kamal. As a survivor of sexual assault at 16, Miranda took up the sport of boxing as part of her healing process. Later in life, she entered the ring as a competitive boxer before sustaining a serious spine injury that was not boxing related. Unable to box again, Kamal decided to use everything she had learned to give back to the community.
Together with Ibrahim Kamal, an eight time National Boxing Champion, they created the Toronto based charity, MJKO with the core principals of Train, Prepare, and Believe! Ibrahim grew up in one of Toronto's priority neighborhoods and knows firsthand how sport can change one's life for the better. He has represented Canada in over 20 countries boxing.
Since 2010, MJKO has operated as a volunteer-run organization under Miranda's leadership, providing free fitness and leadership classes to thousands of young people across Toronto.
MJKO helps young people, aged six to 18, from all backgrounds, ethnic groups, fitness and social levels. Our empowering mentoring and leadership programs educate youth on the benefits of physical activity and healthy food choices.
MJKO trains students, police officers and volunteers on the importance of community involvement in Toronto's "priority" areas. We have strong ties to the neighborhoods we serve and partner with many local youth organizations to achieve our goals. Our outreach helps youth gain confidence and self-esteem while teaching the importance of a healthy and active lifestyle. We believe that the earlier we reach the kids, the more successful and long-term results will be.
In the past four years MJKO has successfully managed the following programs and partnerships.
Ontario Trillium Foundation 2014: I'M A CHAMP
This program promotes physical activity for personal betterment, while increasing community sport and recreation sector capacity. I'M A CHAMP focuses on the 3 stages of the Long Term Athlete Development Plan: FUNdamentals, Learning to Train and Active for Life. MJKO has exceeded targets on this project with respect to program delivery, attendance and volunteer training commitments.
Toronto Foundation Vital Youth 2014: Take the Lead
This program provides leadership training and boxing certifications for youth leaders. Participants go on to successfully host neighbourhood games for their peers. The youth involved in Take the Lead acquire 3 certifications: FUNdamentals Sports Movements, Boxing Ontario Level One Coaching and CPR/First aid.
PHE Canada: We Belong
This program focuses on physical activity as a means of welcoming newcomer youth and their families into their community. MJKO embraced assets in the community to engage newcomer youth, with the end goal of increased physical activity participation.
Toronto Foundation: Playing for Keeps Hub
By having play-centric program, Playing for Keeps is connecting communities with the excitement and athleticism of the 2015 Pan/Parapan American Games.
Toronto Foundation: Vital People 2015
The Vital People grant supports Toronto's community leaders with grants for professional development. Miranda Kamal was selected as a Vital People Award Winner in 2015 and is using the funding to broaden her knowledge of American Sign Language, Mental Health Challenges in youth and continuing her National Coaching Certification.