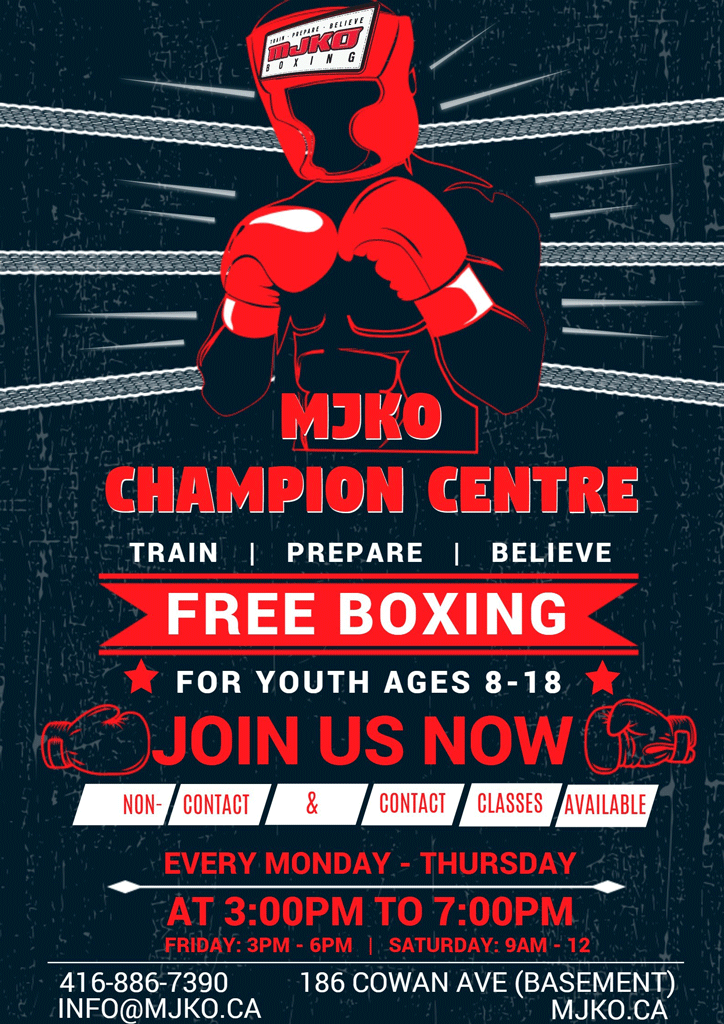 1. Champion Centre (Boxing Gym)
The Champion Centre runs free boxing (recreational & competitive) for youth aged 6-18, daily in South Parkdale. It's an inclusive sport training environment made available for youth looking for a safe place to grow, play and learn.
Champions Centre Hours
Monday to Thursday : 3:00 pm to 7:00pm
Friday : 3:00 pm to 6:00pm
Saturday : 9:00 am to 12:00 pm
Class Descriptions
Co-ed students 8-12 Years =This is a co-ed class for youth aged 8-12 years old. (All abilities welcome) FUNdamental Movement Skills.
Co-ed Students 12 -18 Years = This is a co-ed class for youth aged 12-18 years old. (All abilities welcome) Learn to Train.
Sparring/Competitive = Athletes need coach assessment, Boxing Ontario medical form and parental consent. This class requires contact. Learn to Compete.
Girls Only = Our Girls Only programs includes a community building component and volunteer opportunities.
Community Class = This class is for families to get fit together. We encourage you to work out with your children. Suggested minimum age 6.
MUST READ!!! MJKO Rules of Engagement
Chore System: All MJKO participants have a part to play in keeping MJKO clean and safe. In exchange for free programing, ALL participants must complete a chore before leaving
Engagement: In an effort to make MJKO a safe place for all, we require all people inside the champion to take part. Breaks are encouraged but our goal is to get you moving!
Code of Conduct: MJKO members will at all times conduct and present themselves appropriately with decorum, consideration and respect for others. They are to act as positive role models and use self-regulation, positive techniques of guidance, including redirection, positive reinforcement and encouragement.
Note: **Please note that co-ed students under 12 have a 2 hour time limit in the gym. In order to prevent injury and respect their fitness levels, this is required. This does not apply to girls only as this class a community building aspect.
Please remember to check www.mjko.ca/calendar for PA days & holidays schedule changes.
All necessary equipment is provided by MJKO. To register please stop by the Centre or email us for a registration form.
The below private programs are run through our after schools and Community Centre located at programs at:
Monday's: Parkdale Public School
Tuesday's: Central Toronto Academy
Wednesday's: Queen Victoria Public School
2. Wave Your Flag
In conjunction with the Pan Am Games or Olympic Games, MJKO is hosts it's annual "Wave Your Flag, Boxing Challenge." Participants will learn proper Olympic style boxing and some interesting facts about some of the countries boxing at the games. Students represent one country throughout the challenge and they are expected to research this country and share facts with respect to their history participating in the Pan Am Games or Olympics. They also get to take part in a mock opening ceremonies that includes the parade of nations, the singing of Oh Canada and the official games creeds.
3. Take the Lead (Round I)
This program builds upon the foundation set in the "My Turn to Coach" program allowing students to take on the role as head coach. This program provides further training for MJKO participants to be successful in today's competitive job market. Each youth leader accepted into Take the Lead will receive leadership training, CPR training, and boxing coaching certification. The goal is to successfully host one fun and high quality Neighborhood Games boxing event in their community.
Round II
The "Round II" program will build upon the foundation set in the Take the Lead Round I. This program provides 44 hours of skill-based training for 14 youth volunteers. Eight youth will earn their provincial boxing coaching certification, CRP certification and FUNdamental Skills Movements. Six will become fully Certified at the National level and host one international Playing for Keeps event in Cuba. The 14 Community Champions will deliver 9 Neighbourhood Games events, providing accessible fitness programming for approximately 250 currently inactive youth in Central Toronto. The games will introduce all participants to the spirit and culture of sports. This is in line with the Games promotion of inclusion, respect, sportsmanship and fun.
4. My Turn to Coach
This challenge is a youth directed initiative where students become the coach, coaches become the students, and MJKO community volunteers become the mentors. This experience is designed to help long-term MJKO participants feel comfortable and confident delivering a 120 minute workout class from start to finish. Youth coaches are assigned to a MJKO mentor for support and guidance throughout their preparation and event. Each youth leader must create and deliver a program outline; document the program for the MJKO training manual; research and prepare a snack for participants; create educational questions for group; and, create an invoice for their class and reimbursement of the snacks.
5. Ace Your Interview (16+)
To address the barriers faced by many of our students, MJKO will bring in a volunteer human resource professional to teach students how to successfully ace a job interview. Youth will participate in a 20 minute mini-course at the beginning of each class, discussing the following topics: punctuality, proper interview etiquette (Body language, eye contact, politeness, etc.), dressing for success, what to bring to your interview, and thank you etiquette.
Mind Your Manners (<16+)
This program was designed for MJKO's younger participants 16 years of age and under. The content focus on learning basic etiquette, such as:
1. Introducing Yourself: What to Do When You Meet Someone New.
2. Please and Thank You: Why Are Good Manners So Important?
3. Appearance and Body Language: What You DON'T Say Tells People a Lot.
4. Dining Etiquette: How to Eat Like a Lady or a Gentleman.
5. Broken Telephone: How to Answer the Phone, Take a Message, & Use of Your Cellular Phone in Public.
6. Speaking in Public – Practice Makes Perfect!
7. Overcoming Overreactions: Think Before You Speak!
8. Email Etiquette: How to Communicate to Ensure Respect/Understanding.
9. Physical Hygiene: Look, Smell, and Feel like a Million Bucks!
10. Sports Transferrable Skills – Learn it HERE…use it THERE!!!
6. Hearing the Deaf
(not currently running)
This program creates a safe and encouraging environment for deaf and hard of hearing students to learn a new sport. The program was also developed to give the hearing MJKO students and coaches an appreciation for her daily challenges as a deaf athlete and volunteer. This program is taught with an American Sign Language interpreter on site.