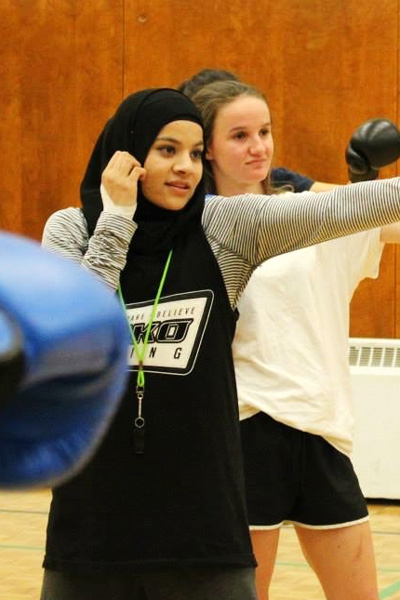 Zeenat Afghan
Youth Coach
NCCP Level 1
Playing for Keeps Coordinator
My name is Zeenat Afghan. I am the program coordinator for the Playing for Keeps initiative. I'm also a Level 1 certified Boxing Coach under the National Coaching Certification Program. I love the sincerity of MJKO in making community leaders. I have always wanted to be part of a program that actually cared about their youth and wanted to make a difference in their lives. MJKO has helped me develop my leadership, communication and athletic abilities.
Coming from a traditional and cultural background, meant I was not athletically active. I had no sports background until I joined my high school volleyball team. Even after joining the team I still didn't feel comfortable. But that all changed when I joined MJKO. I feel that our coaches treat us like family. You don't feel like you are a part of a program but rather a part of a family that is always there for you. The amount of work that our coaches put into making us better community leaders and athletes, is amazing. Overall, I never had a chance to join a sports-based organization. MJKO was my chance and its one of the best things about my life as a youth. MJKO has taught me to be more involved in my community as a community leader, to be comfortable in what I do, and to be active and healthy. MJKO has taught me to do what I love, more than anyone else in my life.
I enjoy coaching girls only sessions and help coach at MJKO;s afterschool programs. I hold a valid CPR and FUNdamentals Skills Movements certification. I completed the Toronto Foundation's Playing for Keep Volunteer Ambassador training in 2015 delivered by George Brown College. I have recently started to develop my photography skill while helping at MJKO events.